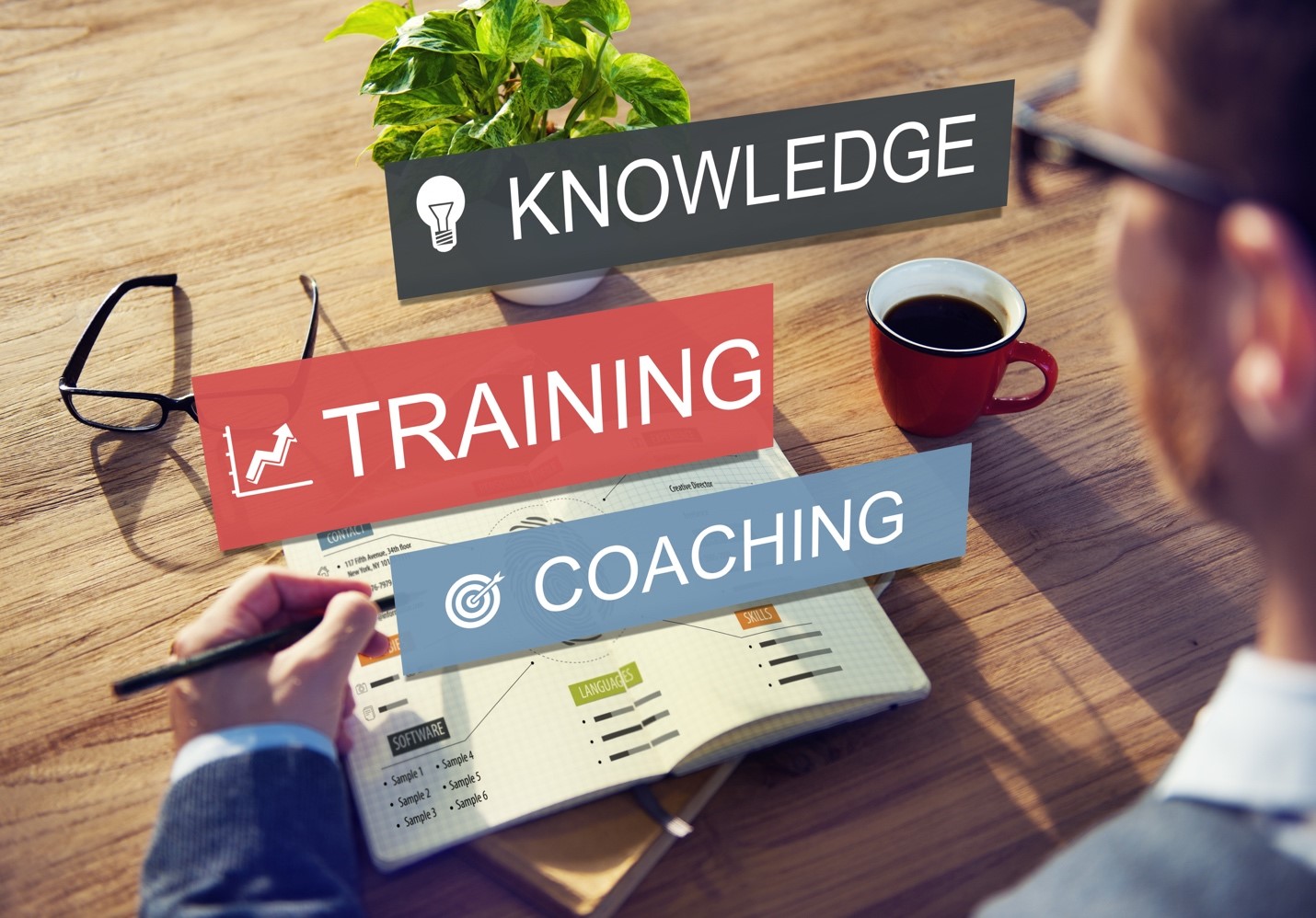 10 Nov

How to Choose Career Development Courses – A 3 Step Guide

Career development today and in the future of work stands on the foundation of lifelong, continuous learning. Knowing how to choose career development courses and journeys is a skill we must develop to be relevant in a world where each of us has to consciously invest in our own career development. Gone are the days when our careers depended on the college degrees we earned. Now, college is just the starting point of preparation for our career development and we have to continuously upgrade our knowledge, skills and mindsets to adapt to newer and newer shifts in job requirements.

In such an environment therefore, it is more important than ever that we understand how to choose the right mix of learning opportunities to steer our own career development. The widespread understanding of how critical it is to learn has also given rise to a mind-boggling array of learning opportunities – from millions of online courses on platforms like Coursera and Udemy to thousands of learning apps-on-demand which fit into your pocket via your smartphones and a mushrooming of professionals who promise to customize your learning experience!

How then are you to decide which of these learning opportunities fits in with your career development goals and how are you to choose career development courses which meet your needs and plans?

We will break this problem down for you and leave you with a ready reckoner that can help you decide how to choose career development courses.
Understanding Learning and its importance in Career Development
First of all, we need to understand why is learning so important. In the 21st century, careers are no longer narrowly defined by organizational hierarchies, but through skills, expertise, experiences and learning agility. Sample these numbers
By the age of 42, you may have had 10 jobs!
The average person will change careers 5-7 times over their working lives.
Learning is what will shape career development in this future of work. Key trends about this learning are
Learning has shifted from the classroom to the online space. Both learners and teachers/facilitators will have to develop comfort with technology in order to ace their learning
Learners will be driven by their own career goals and skills gaps. Learning journeys will be highly customized
Work and learning will be seamless – especially with the greater trend towards the gig economy
Challenges to choosing the right career development courses
The challenges to choosing the right career development courses are both external choice related and internal choice related.
Read – Applying Design Thinking To Designing Careers
External choice related challenges of choosing career development courses could be
Too many options resulting in confusion about what to choose
Lack of guidance
Not knowing how to evaluate the quality of online courses
Vastness of topic
Having a system for measuring progress
Behavioural or internal choice related challenges of choosing career development courses could be
Not finding focused time for learning
Making a habit of self-learning
Continuity
Motivation
Procrastination
Lack of clarity on where you see yourself

How to overcome challenges and choose the right learning or career development courses?
The answer lies in three points
We need to understand how we learn. As adults, we learn by building on what we already know as our foundational strengths/skills. For instance, someone who has the foundational skills of good storytelling and persuasiveness, can learn how to upsell, cross-sell in a variety of situations. If you choose a career development course which is very distant/alien to your foundational skills/strengths, it can make it very hard to muster enough motivation to keep going at it.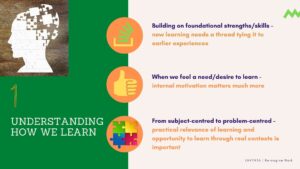 Knowing how we learn is the first step to choose career development courses
Also, in adult learning, we learn better if we feel internally motivated to do so, because it is either enjoyable or it helps us solve a problem which we want to solve. One of my favourite examples to illustrate this is when we have to learn a new language as adults in order to work in a new country or because we want to travel there. We may not learn German or Chinese if simply asked to do so, but if we want to work for a leading German automotive company and visit the headquarters in Germany often, we find the internal motivation to pick up the language.
Therefore the first step to choosing the right career development course is to understand how we learn.
Breaking learning into smaller steps

. Choosing the right career development course or learning course becomes easier if we break the end goal into a series of smaller steps. Ask yourself these questions in this order to break down your learning goals into manageable steps
Where am I now? What are my foundational strengths/skills? What are gap areas?
Why does this career development course look exciting/meaningful to me? How would I feel like if I were to complete this course?
What might I be doing once I have completed this course? E.g. will I get a different job, will this course allow me to work on particular kinds of projects say content writing, data analytics
What do I need to get better at? E.g. hard/content skills, behavioural skills, personal habits etc
Now that I know what I need to get better at, where can I find the right resources/courses? E.g online courses for hard skills, live experiences/projects for functional/soft skills, coaching to work on my habits and mindsets etc
The second step to choose career development courses is to break your learning goal into smaller steps
Categorizing what we need to learn

: Every kind of career goal requires a different set of learning strategies to be applied. So if you want to grow as a people leader, then choose a career development course/opportunity which allows you to work on your behavioural skills.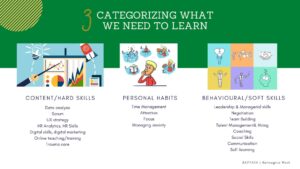 The third step to choose career development courses is to categorize what you need to learn
Read – 8 Ways To Accelerate Your Career In The Future Of Work
Learning strategies for content/hard skills 
Seek feedback on skills gaps
What is the role/work you want to do? What additional subject knowledge do you need?
Search for courses organized by level of content (beginner, medium, advanced etc)
Look for learners' reviews
Does the course have tests/assignments to measure progress?
Learning strategies for behavioural/soft skills:
Break the skill down into actual behaviours/parts – ask mentors/trusted colleagues for help with this
Seek opportunities to practice
Look for safe spaces to practice
Social learning (with others) works best to develop behavioural skills
Consistency is key
Learning strategies for personal habits:
Self-led and self-paced (don't get dazzled by others' great habits)
Ask yourself why this habit matters to you
Don't pick something which stands in stark contrast to how you see yourself
Make it so easy, you can't say no
Increase your habit in very small ways
Get back on track if you slip
In summary, your ready reckoner to help you choose career development courses is the following:
Visualize what you want to get when you choose a career development course –try to visualize this with detail and vividness e.g. you want to see yourself giving a TED talk on a topic of your expertise, you want to land a job writing great copy for a leading social media agency
Work backwards from the above picture and make an assessment of where you are right now with respect to your strengths and skills. Focus on knowing what your foundational strengths/skills are.
What gaps are most important to plug to meet your goal e.g. if you want to land the copywriting role at a leading social media agency, you have to show your superior copy skills. So your learning or choice of career development courses will be about copywriting, SEO tools, persuasive writing etc.
What are the options available to learn and how do they fit into your budget, time and work e.g. online course, learning from a book and attached workbook, taking a group class
Remember, learning is your greatest resource for career development and choosing smartly when it comes to career development courses is a skill you need to hone.
Read Also – 11 Reasons Why You Need a Career Coach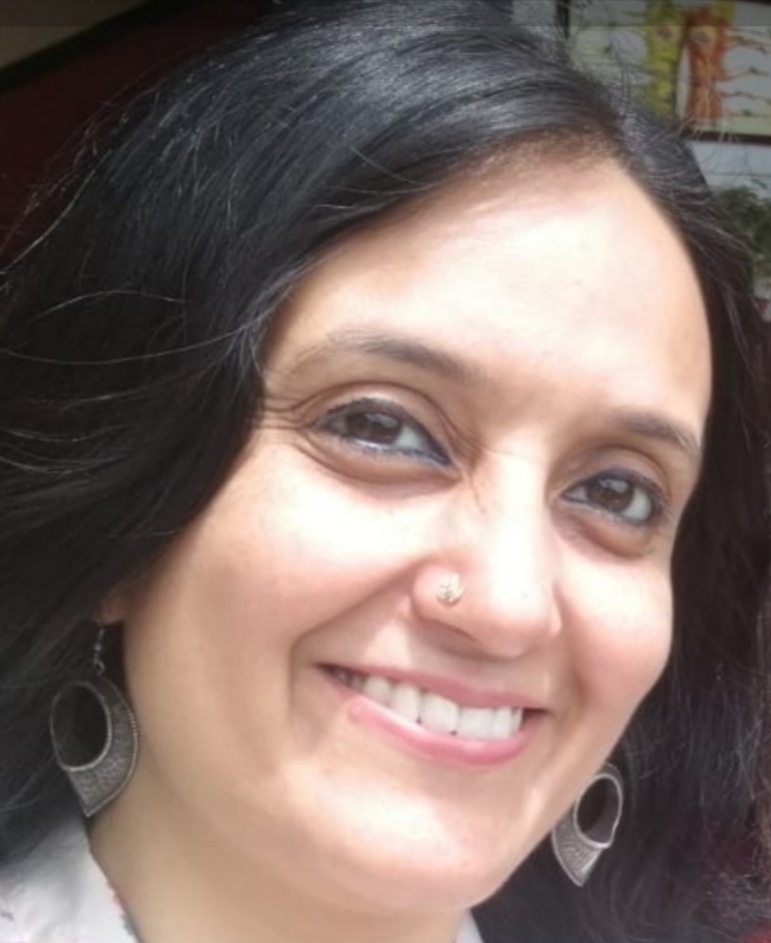 Kavita, an alumna of IIM Ahmedabad, brings 20 years of experience in Experiential Learning, Coaching, Personal Growth & Change. Her forte is Career Transition Coaching and Leadership Development for mid-senior individuals, helping them find success and fulfilment at work . She also teaches Career & Self Development courses at leading management institutes including IIM Kozhikode, IIM Udaipur, IIM Indore and at the IITs.